Save money, have an emergency iPhone backup, get exercise with NowLight.
As you can see NowLight has several great qualities that will enhance your life.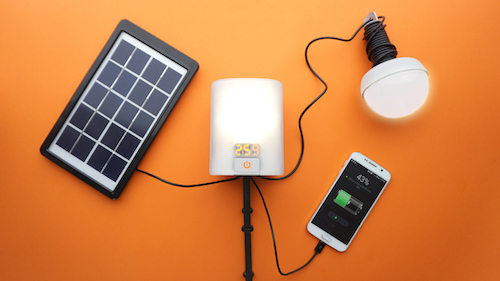 I am not getting paid for this, I just think others would benefit from this product. As you can see it is a light that has two ways to be charged. One is the solar panel that needs direct sunlight. The other is the black cord at the bottom that you can pull to charge the light. You can see that you can charge any smartphone that has a USB B adapter and it comes with one light in addition to the built in light. All for a low price of $120.
I received this last week and it was easy to setup and put to use. It had some hangers that I used to hang the solar panel in my window and I attached the main unit to my bookshelf. I put the light in my bedroom and used it last night. It worked great.
What I like the most about this is that if you have light the solar panel will recharge your device. However if you are in an apartment and your light isn't steady like mine is, then you can pull the cord to charge the device. This may sound like it is time consuming and hard but it isn't. I enjoyed pulling the cord and I didn't find it to be tiring. It was like pulling the window shades and easier than some window shades I have pulled. The cord is plastic and it turns the generator which creates electricity.
For about 5 minutes of pulling you see the display increase by the number of minutes you have charged on the lowest setting. So about 5 minutes of me pulling it gives me a 1% increase in power which is about 30 minutes of use. An hour is 2% and that is roughly 10 minutes of pulling the easy cord. While this may sound inefficient, it is amazing. What I love about this is it lowers my carbon footprint, and I like the exercise of pulling it.
Last night when it was dark the lowest setting provides more light than any nightlight I have used. This would be perfect for a child for example. On the second to the lowest setting I was easily able to use my computer and see around my bedroom. On the brightest setting it is brighter than the LED light I use during the day. With both of the lights on I have the majority of my apartment light up and I can see well enough to do most tasks. I can use the bathroom, or even get things in the kitchen if I want.
Finally the ability to charge a smartphone in an emergency is a wonderful option. It is only 5V but that means while the charge will be slow, it will still work and I don't need to depend on the sunlight for it. This is more reliable than solar panels or devices with hand cranks. I have read many amazon and other reviews that say that hand cranked electricity isn't efficient or reliable.
If you buy one of these you will love it. It could be used in an RV or even in an SUV. I am glad I am on my way to renewable energy. I feel very good about this purchase. They also help poor people and that is worth supporting.