Brave Browser Incompatible with One Signal Notification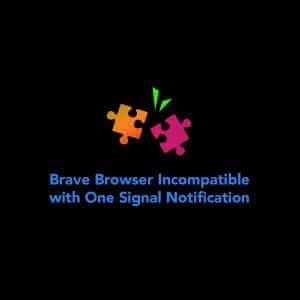 In a previous article I introduced the Brave browser. Brave is a free, open-sourced browser providing users with better online safety. It blocks ads and website trackers and performs well in loading websites. I've been very satisfied with Brave.
However
, recently I encountered some issue of the browser and discovered that it does not currently support One Signal push notification
.
At first, I noticed that I couldn't subscribe to One Signal notification on Brave but I could do so on other browsers such as Chrome, Safari and Vivaldi
. I thought it might be a glitch of One Signal.
After I emailed the support team at One Signal, they told me the issue was that Brave has the setting for allowing One Signal notification to pass its blocker, but it's not working
properly
due to certain missing functionality
. As a result, I troubleshot the issue on Brave Community and I'm still waiting for the problem to
be solved
.
The trend of using more push notifications on website can be annoying to website visitors
. How many times do you have to click on a "deny" button and refuse to subscribe to a push notification today? It is helpful for users to have blockers on Brave.
However
, there are times when visitors do want to receive notifications from websites that they
are interested
in
.
It would be better for a browser to have the flexibility to allow users to subscribe to notifications that they
voluntarily
choose to receive
.